The look of Swedavia's new head office
Relocation to Swedavia's new head office is now complete. 530 employees have settled into the new premises directly adjacent to Stockholm Arlanda Airport. An activity-based office designed for interaction, networking and a shared culture is intended to attract the employees of tomorrow and strengthen the Swedavia brand.
Swedavia's head office at Stockholm Arlanda Airport provides its 530 employees not just with a modern office, but also a new way of working. Operations from nine different locations have been brought together in an activity-based office that aims to provide a creative, networking and varied environment where interaction and a shared culture can evolve and strengthen the Swedavia brand.
"We don't see this as a relocation project. For us, activity-based is a new way of working. More open-plan areas allow natural interaction and we evolve together. Certainly, there was some anxiety internally, especially at the outset, but we have worked hard to implement this working method. We have provided information on what it means for the individual and management, conducted workshops and created a project page on our intranet, and formulated objectives. We have now succeeded in converting the vast majority who had concerns initially," says Malin Nybladh, change manager within HR at Swedavia.
Something for everyone
Many employees were initially worried about lack of space when it was announced that their personal desks were to be replaced by shared areas and workstations. But there was no reason for concern, according to Jessica Einebrant, who is in charge of brand and design at Swedavia.
"We have a current occupancy rate of just over 45 per cent. It wouldn't be efficient from an environmental or cost perspective to furnish the interior for a 100 % occupancy rate. And no one needs to be worried about not having a seat; we have just over 1,000 potential stations, just not in the traditional format of office chairs and desks. The point is that you can choose for yourself what type of work environment is best for your tasks on any given day. Our employees have widely-differing duties, so it is essential to have something to suit everyone."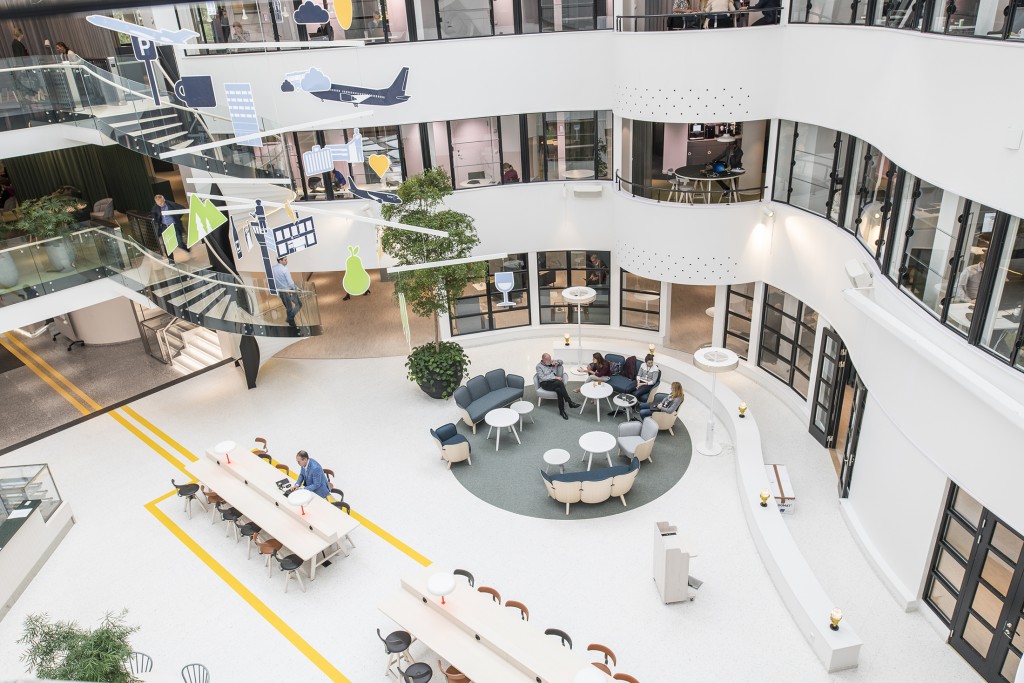 Inspired

by

heaven

and

earth
The office has been modelled to suit Swedavia's requirements, with numerous meeting rooms and areas for interaction. Swedavia and Tema Arkitekter have jointly designed the office and developed their own version of an activity-based set-up.
"We wanted to clarify the brand and Swedavia's values, since the head office creates a benchmark for how the group's offices will look. Aviation has naturally played a big role. The weather, nature, earth and, of course, air all provided inspiration. The entrance floor uses earth colours, while level two has yellow and green shades to symbolise treetops and the sun, and the top floor naturally features blue like the sky, with injections of red to suggest sunset. The flooring provides another interesting detail. It reflects views as seen from the air when flying, a patchwork of fields and meadows. It should be clear what Swedavia's business is about as soon as you enter the office," says Karolina Hammar, the lead interior designer from Tema Arkitekter.
The fact that the environment represents an important component of Swedavia's operations is not just reflected in the aesthetics of the interior design. Mats Genym from Input interior, which managed the relocation project and supplied the interior furnishings for the new office, confirms that the project delivers a high level of aspiration in terms of the environment.
"The furniture invested in by Swedavia bears the Nordic Swan Eco-label or fulfils equivalent standards. In addition, just over 30 per cent of the interior furnishings are being reused, which is the best form of environmental saving. The furnishings that are being freshened up and reused are naturally high quality and adapted to the needs of the business. We decided early on that furniture that is not worn out should be reconditioned and reused and given a new lease of life in new environments before finally being scrapped."