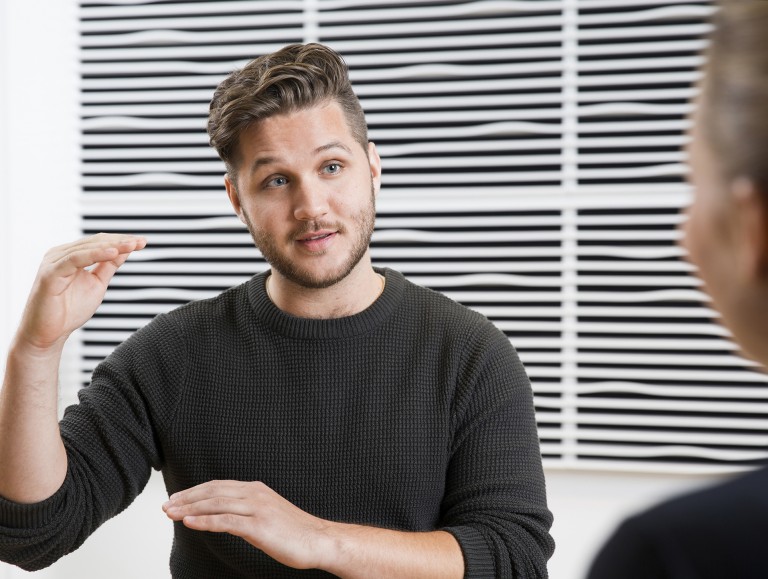 Philip Hellberg
What year did you join Input interior?
2016.
What are you working on right now?
Just now I'm compiling a manual for a desk screen for one of our installers.
What else do you do on working days?
I work with our back office support function, so I help both our sales team and sometimes clients with a variety of issues and problems. My areas of responsibility are cases and complaints.
And when you are not at work?
I enjoy good food and drink. I think it's fun to experiment in the kitchen. Ramen noodles are my big thing right now; before that I was baking my own sourdough bread, and six months ago I was brewing my own beer. Otherwise I spend some time exercising when I can; just now I'm training for a Toughest race in the autumn.
What did you do before?
I had a similar job at Bilia as administrator, where I placed orders and took care of administrative tasks. Before that I was a scaffolder for a while. And I studied at Chalmers, one year on the computer engineering programme.
How did you end up here?
I came here via a consultancy firm at the end of May 2016. For the holiday period, our CEO asked if I wanted to move over and become a permanent employee, which I did. So it was a quick process, by autumn I had joined 'for real'.
Have there been any memorable moments at work?
What I immediately think of is the crayfish party we had with the whole of the Gothenburg office. We set up a long table out on the loading dock, and it was one of those evenings with gorgeous weather. And I will never forget our anniversary party when we celebrated 30 years. It was a truly spectacular event!
What is the hardest thing about your job?
Complaint cases can be a real challenge. Sometimes people get in touch to report things that have become worn or suffered scratches after a very long time and say that they expect a new product. Then you have to have a discussion and explain that normal wear and tear is natural for older furniture.
What's the best thing about it?
The best thing is being appreciated, both by my colleagues on the support team and by the sales staff I work with. Sometimes clients have also been very grateful and appreciative when I have resolved something for them. It's nice to be able to help out and what's great about my job is that I can make people happy.